Jennifer King is breaking barriers in the NFL this week as the first African American Female coach in NFL history, as well as the fourth all time female to hold a full time coaching job. King, who served as a intern coach during the 2017 preseason with the Carolina Panthers is joining the Washington Redskins organization as a full time offensive teams assistant coach.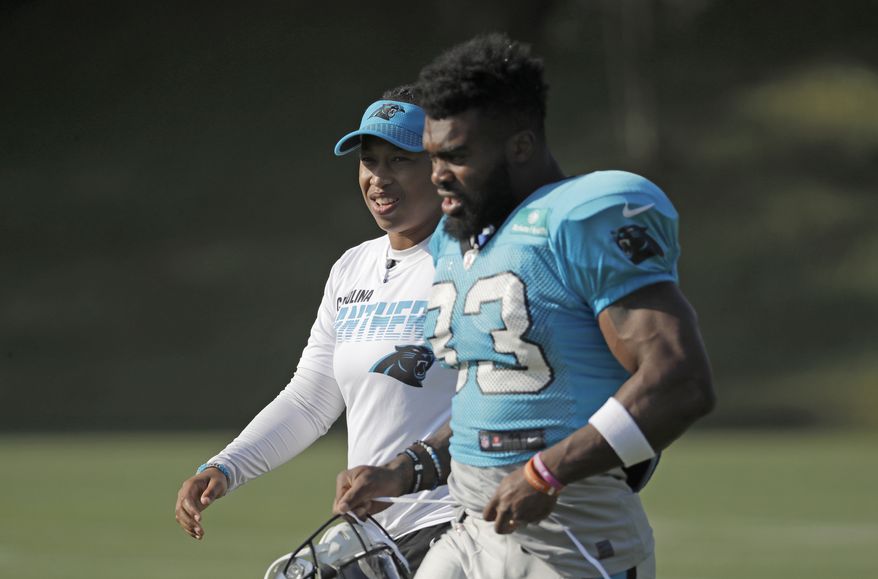 Ron Rivera is the Skins' newly acquired head coach, and has past experiences with King on the 2017′ Carolina squad:
"Jennifer is a bright young coach and will be a great addition to our staff," Rivera said in a statement. "Her familiarity with my expectations as a coach and my first-hand knowledge of her work ethnic and preparation were big factors in bringing her to the Redskins."

Ron Rivera, NBC News
Since her time with the Panthers organization, she has played an influential role in the recent success of Dartmouth Collages Ivy League 9-1 record in the 2019-2020 season. Conducting as an offensive assistant coach. King also fulfilled the role of special teams coach for the now defunct Arizona Hotshots in the semi professional football alliance league throughout the 2018-2019 season.
King will become only the fourth female in NFL history who will a hold full time coaching position. Including the ranks of Lori Locust, the assistant defensive line coach for the Tampa Bay Buccaneers, also Tampa's assistant strength and conditioning coach Maral Javadifar. As well as the recent Superbowl runner up Katie Sowers, who was the first openly gay female coach in Superbowl history.
King, as well as many female coaches face unique challenges in comparison to their male counterparts in regards to coaching professional sport. There is a sense of urgency to over preform their male colleagues due to their sex, as well as the sense of having to prove their worth; validating that they actually belong. Men do not meet the same obstacles.
Women tend to be overshadowed when it comes to professional sport. Where in the NFL changes are occurring, when it was once unheard-of for a female to be associated with coaching roles in professional football, it is now becoming more and more common. While representing a very small percentage of a male dominated coaching roles, progress is being made, in the right direction. Female inclusiveness in professional sport is something that will have positive impacts for future generations of female youth, creating role models and idols that once did not exist.
IainG
Featured Image: Jennifer King (Source: Rhiannon Walker, The Athletic)