The Alinker is a non-motorized walking bike. It is a three-wheeled bike with no pedals, that allows those to sit upright with their weight supported by the seat. It gives those who have difficulties with movement the chance to maintain an active life.
The Alinker is opening new doors to many with disabilities. They are changing the norms by allowing those with varying movement disability the opportunity to build more inclusive communities. It allows riders with mobility issues to mimic the motion of running.
Barbara Alink is the creator of the Alinker. She is a Dutch designer, architect, and humanitarian. She began this project after being inspired by her mothers dislike for using walkers and scooters. She chose to create something that would challenge our assumptions about people with the lack of independent mobility. The Alinker was first introduced through crowdfunding and was continued to be funded through CBC's Dragons' Den. With Barbara's work abroad, she has decided that 1 out of every 100 Alinker's sold will be donated to landmine victims, through both veteran and amputee programs.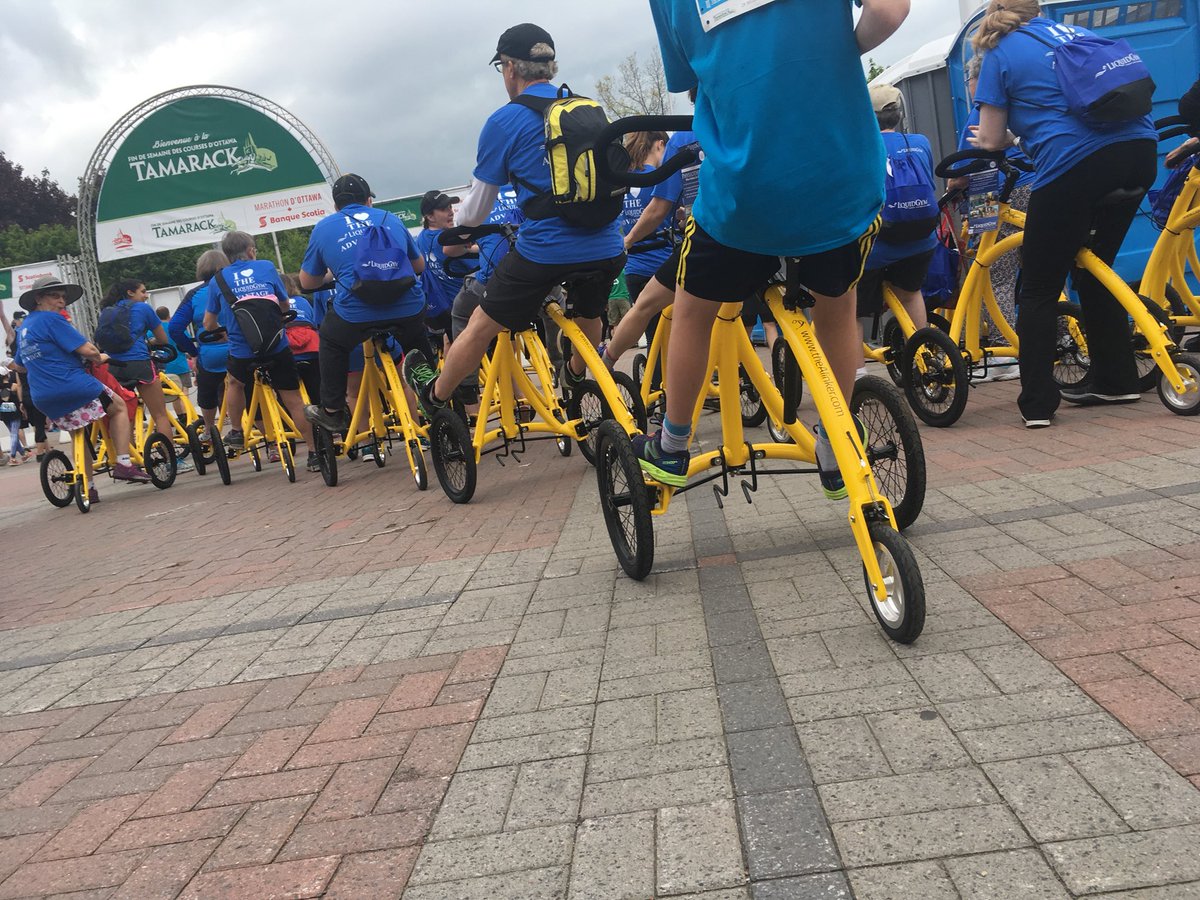 This summer, in Ottawa, Alinker riders lined up their bikes to take part in the Ottawa Race Weekend. About 50 riders from LiquidGym participated in the 2k race on the Saturday. LiquidGym is a hydro physiotherapy and rehabilitation center.
Member and patient at LiquidGym Mary Bolt told CBC that
"It's the most wonderful piece of equipment you'll ever have"
Bolt has a degenerative joint disease and before being prescribed the Alinker as therapy her joints would lock up every 5 to 10 minutes while walking.
The Alinker has given individuals with similar cases to Bolt's the ability to take part in a competitive race. The Alinker gives those with mobility difficulties the opportunity to continue exercising.
The impact of societal perceptions of disability and disability sport are at play here. Perceptions of disabilities within society affects their social interactions. Through research, it is suggested that individuals with disabilities are constantly confronted with negative perceptions about their ability to carry out a task that most people take for granted. They appear to develop low self-esteem, as there is constantly this fear of failure. Many people with disabilities do not become involved in sport based on their own self-perceptions. Socially, we have decided that people with disabilities are unable to take part in sport. Often, sports involving individuals with disabilities are not shown in the media. Therefore, the Ottawa Race is breaking boundaries by including the Alinkers in an even generally composed of abled people.
alyajaffer