When the Houston Rocket's General Manager Daryl Morey tweeted a simple message of support to protestors in Hong Kong, few could have predicted the fire the NBA would have to put out as a result. Weeks on, not even the comments of politicians and pundits have put it out completely.
Daryl Morey undoubtedly had the best of intentions when tweeting a pro-Hong Kong sentiment several weeks ago, but it was a shortsighted move. With two teams in China at that moment, the commissioner in Tokyo, and the weight of a billion-dollar organization on his shoulders, adding "International political arsonist" to his resume was probably the last thing he wanted to do. But yet that is what happened.
The tweet resulted in the National Basketball Association wading straight into one of the more serious diplomatic crisis facing the Asian continent at the moment, walking a tightrope between angering a significant source of income for the league and discouraging freedom of speech and expression. Rumours swirled that superstar LeBron James pressured the commissioner Adam Silver to punish Morey, in order to send a message of remorse to Chinese sponsorships. James did little to help his cause when he told reporters in an interview that Morey "wasn't educated on the situation at hand" when he tweeted, prompting many US politicians and newscasters to criticize James for stifling freedom of speech.
This is heavy. In today's age of superstar and celebrity status, and with social media accessible to all, sports have become more political than ever before. Author Jonathan Grix (2012) notes this increasing politicization, but Klein (2017) argues it benefits nobody. The unique position that athletes are in does allow them to have great influence, but does not mean they must use it. Now this is the logic that Fox News Host Laura Ingram used to famously beat down LeBron James' criticism of Donald Trump by telling him to "shut up and dribble," but it is inconsistent with her response to this crisis. Ever the instigator, Ingram, doubled down on James for not speaking out about the China, accusing him in prioritizing personal interests over freedom of speech.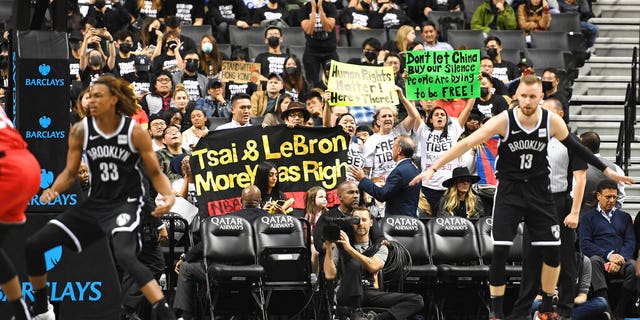 It's an impossible situation all around. It's hard to say who is right and wrong – one can understand one not wanting to lose millions of dollars by engaging in an international dispute, particularly when both countries are in the midst of a historic trade war and one of the biggest civil disputes in 40 years. It is a remarkable, and perhaps the biggest ever, convergence of politics and sport. But as sporting influence continues to grow and spread across the world, this is likely to become more and more common.
duignanluke
Featured image: Protestors in Hong Kong wear a crying Lebron James mask while others burn his jersey (Source: Lampson Yip)