Russian ice hockey player Evgeny Kuznetzov of the Washington Capitals has tested positive for the use of cocaine after the International Ice Hockey Federation (IIHF) conducted a doping control test and detected the substance following a World Championship Hockey event. He has been suspended for four years from participating in IIHF events. Although Kuznetsov was suspended, the NHL follows different anti-doping rules, which do not consider cocaine a performance enhancing drug.
This has somewhat protected Kuznetzov from any consequences, especially after becoming a Stanley Cup Champion only two years ago. This incident sparks the question 'Should cocaine be part of the banned list and should there be any punishment for the use of it?'. This is a big controversy in today's sport and is something that different organizations deal with differently.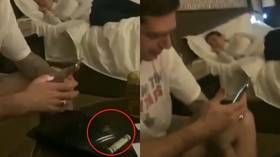 After the incident surfaced on different media platforms, Kuznetzov apologized and gave a thoughtful response to the to his fans, his family, and his teammates in the hopes that they can forgive him for his actions. He believes the only way to regain the support that he had from so many, is to move forward and stay on the right path.
kyle9mcdonald
Featured image: Evgeny Kuznetsov suited up as a Washington Capital (Source: TSN)