Katie Sowers has made history as the first women and the first openly gay football coach to work in the Super Bowl. Sowers is also the second woman to ever to hold a full-time position coaching in the NFL. Her success and story has sparked conversation about the lack of diversity in sport and the challenges that minorities face when trying to become a coach. Sowers is now working her fourth season as an offensive assistant with the San Francisco 49ers, but in order for her to become the successful coach that she is today, Sowers had to break down sports barriers, stereotypes and face many challenges that men do not.
After college, Sowers applied for a volunteer coaching position with the Goshen women's basketball team and was denied the position specifically because of her sexual orientation. Sowers was told it was nothing personal but parents were worried about their daughters being exposed to a gay person. This news devastated her but she did not give up on her goal career of being an NFL coach. Recently, the Goshen College president made a public apology to Sowers, and explained that their new hiring process will no longer discriminate against race, sexuality or gender.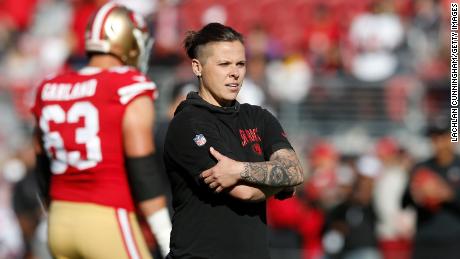 In Sowers' early career she was the general manager of the Women's Football Alliance, and a player for the US National Football Team. Scott Pioli, former general manager of the Kansas City Chiefs took special interest after hearing her story. Pioli advocated for and supported Sowers until she got a job as a season offensive assistant for the NFL. Once Sowers was in the NFL she worked hard and landed her current coaching job, becoming the first woman and LGBTQ+ member to coach in the Super Bowl. Sowers has broken down NFL walls that previously excluded minorities and is making a trail for individuals of colour, LGBTQ+ members and any minorities who are more than qualified to hold coaching job.
The coaching industry has always been white male dominated and does not provide equal opportunities for minorities. Sowers is the first to stand up about the lack of diversity in coaching and talk about her journey as a gay women in a heterosexual man's world. The first step to fixing this problem is to recognize that minorities have to overcome discrimination, gender roles, stereotypes, the need to validate and prove their worth and constantly fight to not be overshadowed in their career because they don't fit the standard "white male" role. The lack of diversity among coaches is a discouraging signal to youth that a coaching career is not an option for anyone who does not fit the current standards. Encouraging diversity in coaching will have a positive impact on society. Young girls, people of colour and LGBTQ+ members will feel supported and empowered to pursuit coaching careers, youth will grow up knowing how to respect minority members and everyone will have equal opportunity to become a coach if diversity is encouraged and included.
Michaela Tracy
FEATURED IMAGE: KATIE SOWERS IN 2009 (SOURCE: GOSHEN COLLEGE)