Prior to a friendly international match against Japan on March 11th, the U.S Women's national soccer team wore their jerseys inside out as a powerful form of protest during warm ups and throughout the US national anthem, in attempt to hide the US soccer federation logo. This protest was in retaliation to preceding US Soccer Federations' statements that their male counterparts occupations calls for "more responsibility" and their job "requires a higher level of skill". This implied that women have lesser physical abilities as well are incapable of handling large amounts of responsibility and also justified why the american women are receiving less pay than men.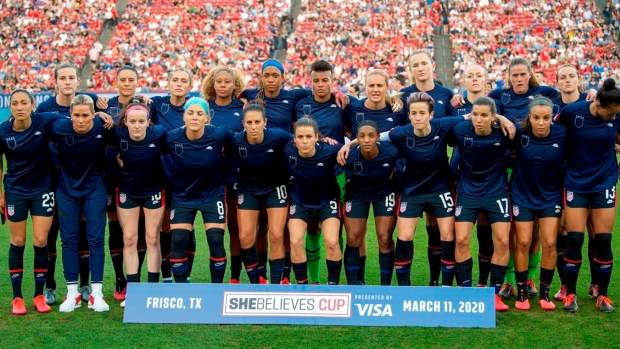 The team is in the midst of a legal lawsuit with the US Soccer Federation due to gender discrimination and lack of equality in pay. As Christen Press later commented on twitter, "It is the great honor of my life to play this sport and represent this country. Every woman deserves equal pay and every institution anywhere that doesn't value women as much as men must change now,"
The gender pay gap is very real, as discussed within this article the tremendous pay gap between male and female professional tennis players. It is known that tennis and golf are two of the highest salary achieving sports for female athletes, yet they are still at a disadvantage to their male counterparts. According to the study, female tennis players earned substantially less in every single major tournament in 2009, purse winnings at these tournaments are considerably lower for female athletes.
Women are heavily underrepresented in the media throughout professional sport. Although media coverage is gradually changing in today's society, there are relativity few female events that are televised in comparison to their male counterparts. This change is allowing younger generations to view women participating in a high level of competition. This encourages the younger audience to participate in the future of sport through the instillation of female role models and allowing young girls to realize what is possible. As women face major inequity, protests such as the US national soccer club wearing their jerseys inside out draws attention to what is occurring and hopefully taking us one step farther to equality between genders within sport.
Iain G.
FEATURED IMAGE: US women's team Player MEGAN rAPINOE wearing her jersey inside out (Source: Ronald Martinez / Getty Images)