Amidst the growing concern and spread of the COVID-19 pandemic, the NBA announced it's decision to suspend the 2019-2020 season indefinitely on Wednesday March 11th, 2020.
The decision was made after, Rudy Gobert, a Utah Jazz NBA player, tested positive for coronavirus. The league quickly took action to post-pone and now cancel future games/ events scheduled for the rest of the season. With players and team personal traveling around North America and coming in close contact with new groups of people on a daily basis, it was the right decision to suspend the league until it is safe for staff and players to return.
Recently, the league has come up with a new way to keep fans entertained: an NBA 2K Players Tournament. NBA 2K is a video game that allows players to compete in virtual NBA basketball games. NBA players who were seeded high in NBA 2K rating and tenure have the ability to be broadcast live on ESPN playing head to head using the Xbox One console. The champion of the tournament will receive $100,000 in their name to donate to coronavirus relief efforts.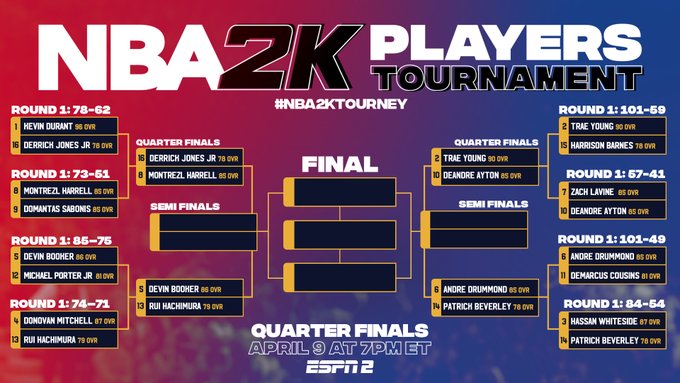 Fans are able to watch the NBA 2K Players Tournament live on ESPN, and so far the tournament has been a huge success. The tournament bracket and promotion is all over social media, from professional athletes personal pages to league pages and celebrities pages. NBA fans, sports fans, and eSports fans have tuned in to watch the tournament, showing the impact that technology and media has on sport today.
While society is quarantined at home, their love for sport does not stop, and the sport industry is aware. Multiple sports leagues have offered free streaming of past games to give sports fans access to what they love. But why do people enjoy spectating on the internet?
A newly evolving phenomenon called eSports, which is online competitive video gaming, has become a lucrative industry with millions of fans worldwide, and may help answer this question. A study by Hamari and Sjöblom (2017) found that "escapism, acquiring knowledge about the games being played, novelty and eSports athlete aggressiveness were found to positively predict eSport spectating frequency." These findings could also apply to internet sport spectating as they share similar concepts of teams, brands, and competitions.
With the end of COVID-19 quarantine being unknown and the NBA 2K Players Tournament ending soon, it will be interesting to see how the sporting industry will capitalize on the opportunity to start other forms of entertainment via internet spectating. Potentially other sport leagues will step up and form their own video gaming internet tournaments?
The NBA 2K Players Tournament quarter finals are on April 9th, at 7pm EST on channel ESPN 2.
clarebagnell
FEATURED IMAGE: NBA 2K PLAYERS TOURNAMENT MATCH UPS (SOURCE: THE RINGER)